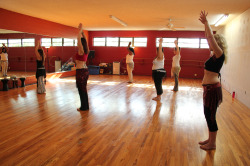 Hip Expressions Studio has a LOT to offer!
- 3600 square feet total,
- real hard wood floors,
- natural light,
- and tons of open space is perfect for a variety of programs and events!

We also have:
- Welcome Lobby area,
- Three Studios:
Studio A - 1250 sq ft (approx 27.5 x 45.5 feet)
Studio B - 630 sq ft (approx 21 x 30 feet)
Studio C - 325 sq ft (approx 13 x 25 feet)
- Easy to get to location, one block from I-275 on 54th Ave. N
- Lots of parking, in our lot and next door at the school

From lectures, classes, private lessons, workshops, and programs to birthday parties and even performances, our Studio is an inviting welcoming space for all. We are proud that our facility is clean, inspirational, motivational, and comfortable! You'll feel right at home in our 2nd-floor Oasis!

Please contact Johanna with any questions, 727.459.8558, or johannahipex@gmail.com.

Please fill out this form for each event or program you are interested in running. If you do not hear back from us within 3 days of submitting the form, please call or email as we may not have received it.
Our rates vary according to the nature of the event, and should be worked out directly with Johanna.
We run a variety of different types of events here, from private events to ones that we help advertise to our audience as well, so be prepared for us to ask more questions about your event, we want to make it as successful as possible!
Thanks for opportunity for us to host your event, we really appreciate it!