Teri Plumridge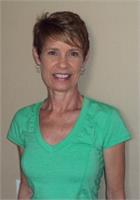 Teri Plumridge, RYT 500
Teri began practicing yoga in 1999 for relief of back pain and tight hips. What resulted was not only a healthier body, but a more peaceful mind and joyful self. She wished to share this wonderful practice of yoga with others, so she completed her 200 hour teacher training in 2006 and began teaching. Teri completed her 500 hour teacher training in 2014 and has studied with Wanda Howe, Tias Little, Roger Cole, Baxter Bell, Elise Miller, Cyndi Lee, Lillah Schwartz & Ray Long.
Teri loves teaching alignment based Hatha yoga with a positive attitude and encouraging words for her students. She hopes they come away from each class with a sense of lightness and ease throughout their body and mind.
Teri Plumridge instructs the following:
This traditional, alignment-based Hatha yoga class is perfect for ALL skill levels. This practice meets you where YOU are at, encouraging awareness and acceptance, and at the same time, working with intention to strengthen the body, increase flexibility, improve self awareness and create a quiet,peaceful mind. This class offers a safe, challenging and fun practice accessible to everyone through the use of modifications and props.
Perfect for anyone with low back pain, tightness in the shoulders, or other injury or pain. We will work closely with alignment, focusing on staying mindful and listening to your body while we explore movements and stretches. You will find compassion and understanding in moving safely for YOU. We will also play with the breath and mindful stillness. You will experience stress relief, to better face the rest of your day with ease and joy. This is time to focus on YOUR well-being!

New to yoga? This will give you a safe foundation from which to build your practice. Experience with yoga? Explore fundamentals with a new attention to safety and detail that will benefit your practice no matter where you are at.