Jill Castle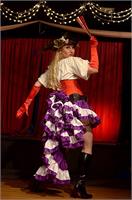 Nilla Bean has been on stage performing various styles of dance since her teenage years. First stripping out of an evening gown on stage during the musical Guys and Dolls and being your typical boisterous cheerleader; she was hooked on making the audience laugh while being the center of attention. Nilla started belly dancing in upstate New York back in 2004 and was hooked after just one class. A few years later she and a partner started the SunDancers, a women's dance workout group that catered to women recovering from cancer surgery and their supporters. From 2006 to 2011 she worked for a pro-choice health clinic and led youth empowerment and self esteem classes through dance. Moving on to New Hampshire in 2011 she joined the belly dance troupe The Raq-ettes under the dance name Jillian and worked for Raq-On Dance Studio. This allowed her the time to hone her burlesque identity while leading 'pin-up and cheesecake burlesque' classes. It was a sad farewell to her performance community who awarded her the Raq-On Dance Community Award at the end of her final show with the studio. Her latest move to the Tampa Bay/St Pete area of Florida in 2013 has yielded the highest results in her dance career. Joining Hip Expressions Dance Studio and performing with some of central Florida's best belly dancers and burlesque babes she has found her home. She is becoming known for her pirate and mermaid acts and loves learning new combinations in belly dance to use in her improvisations. She's been designing and sewing costumes since she was a teen, baking up cupcakes for those she loves for over 15 years, and has been laughing louder than anyone within earshot for as long as she's been shimmying this earth!
Jill Castle instructs the following:
Come learn the beautiful art of belly dance! This class will introduce you to the basic isolations you need as a solid foundation for belly dance. Learn new and exciting things about your muscle groups, how to access your inner core to create beautiful and fluid movements. We'll also work on arms, posture, and some footwork will be introduced to lay the groundwork to delve into this art form. As your muscles strengthen, your control will improve and you will see yourself start to dance! Develop self-confidence, coordination, and comfort inside your own skin that brings out your inner Goddess!

Spring Session: April/May




Learn authentic Rio De Janeiro style Brazilian samba as you perform a high energy dynamic cardio workout. Class includes warm up with strength and flexibility training. The aerobic effect of Samba relies on fast steps, hip work, and vigorous upper body arm movements to create a full body workout!

Spring Session (April/May)

Learn (and drill, drill drill) your 'basic samba step'. Combined with pulse pumping calorie blasting moves, we'll work on building a choreography to perform in the June showcase! Look for a Samba Feather Headdress building workshop soon so you can have your own to perform in!