Christine Stineman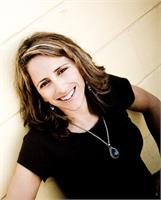 Through teaching Nia and practicing massage therapy, it is with great joy I help people relieve pain and stress, learn more about themselves through body awareness and assist in their healing process. I love to help people feel better, move better and live better! Through practicing Nia, I was guided down a very complementary path. I became a massage therapist, graduating from the Colorado School of Healing Arts in 2004. I honed my craft at world class resorts in Colorado, Idaho and Florida before starting my own practice here in St. Petersburg. I've been in St. Pete for over 7 years now and since I've been here I've married, made new friendships, started my own practice, become a teacher of Nia Technique and became a mom. I love my body and I love my life! www.nia-stpete.com
Christine Stineman instructs the following:
Nia is a sensory-based movement practice and a fun, creative way to get fit, relieve stress, self-heal and move your body with Joy, Pleasure and Awareness. You'll sweat and laugh while conditioning your whole body. Practiced barefoot to a variety of soul-stirring music, Nia blends form with freedom, drawing from disciplines of the dance arts, martial arts, and healing arts. Every experience can be adapted to individual needs and abilities. Step into your own joyful journey with Nia, and positively shape the way you feel, look, think and live. Nia will move you...

Spring Session April/May:

Dance through the Chakra system for these eight weeks; Sundays, create a joyful body and life with the new Nia routine called Joy! Every body moves, every body dances.




Discover the Nia promise! Connect with your dance and step in with confidence! Perfect for beginners or anyone who would enjoy a review and embody the basics in a slower paced-environment. Learn Nia philosophy, the moves and tools to enhance your practice. Combining dance, martial arts and mindfulness, Nia tones your body while transforming your mind. More than just a workout, Nia is a holistic fitness practice addressing each aspect of your life - body, mind, emotions and spirit.

Christine Stineman, Black Belt Nia teacher has been sharing Nia with St. Petersburg for the past 10 years. She brings her knowledge as a massage therapist and her love of the body and dance to her classes and workshops. She believes that dancing in community is healing, empowering and FUN!

Saturday, April 15th 10:45am - 12:45pm

$20 in advance/$25 at door. Hip Expressions members, bring a friend and you attend for FREE! Retakes are also FREE!