Dawn Cecil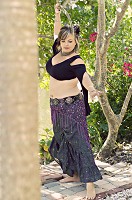 Dawn was first introduced to dancing as a young child living in Hawai'i, but it wasn't until adulthood that she discovered her love of belly dancing. In 2003 she began taking improvisational tribal classes with Johanna for fun and never dreamed that she would perform and teach it as well. In 2004, she became a member of Loud Zoo, where she continues to share the love of dance with the other members of the troupe. Dawn also continues to explore her Polynesian dance roots as well. http://www.hip-expressions.com/HipEx/Dawn.html
Dawn Cecil instructs the following:
Dawn's Funky Fusion Choreography

with

Dawn Cecil

It's so much fun to take the traditional art of belly dance in new and diverse directions! Join Dawn for a new fusion choreography to Missy Elliot's I'm Better. For this medium paced hip hop song we will intertwine sharp and slinky bellydance moves, along with shimmies and formation changes to get funky. We'll put it all together & perform at Sept 15th Showcase. Attendance at Dawn's Funky Fusion class Wednesdays is highly recommended.

Costume: black capri joggers, hip scarf, black or colored top (can coordinate with hip scarf).

Tuesdays, 7-8pm
June 27 - Sept 12 (12 classes)
$144 by June 12, $180 after
(10% off regular price for Members)




Just as every art form has evolved over time, so has belly dance. Though it is important to know the roots of the moves, and be familiar with the origins and ethnic variations of the dance, it is a vibrant art form that continues to expand in many directions all over the world.

In this class we'll take belly dance moves and explore how to apply them to a variety of styles in fun and interesting ways, while remaining true to the definition of 'belly dance'. Play with tempos, feelings and themes to explore the art of belly dance as a contemporary artistic movement. We'll add different 'flavors' using contemporary music and influences from dance forms from all over the world. Belly Dance has no boundaries!

Spring Session, April/May:

Slow, Slinky & Funky! Belly dance with Tribal Fusion moves and combinations, with a variety of modern music from belly electronica to hip hop!